State Dems reject Newsom for national convention post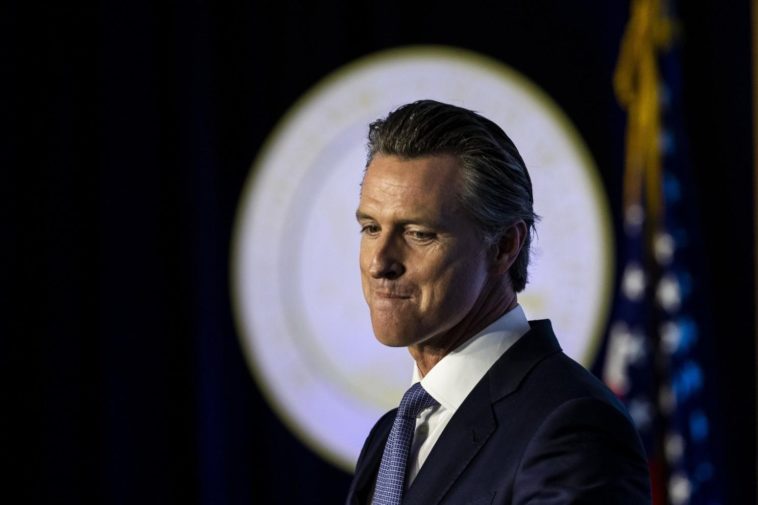 From Politico
Bernie Sanders may not be the Democratic nominee, but his followers are flexing their muscle in California, where he handily won the March 3 primary. And those grassroots Democratic activists last weekend rejected Gavin Newsom when they voted to name who will lead them into this summer's Democratic National Convention.
Their choices: Rep. Ro Khanna of Silicon Valley, the most prominent and high profile backer of Bernie Sanders' presidential run, along with Rep. Barbara Lee of Oakland, an icon to the progressive crowd. And representing the more moderate wing of the party will be Los Angeles County Supervisor Hilda Solis, who served as secretary of labor during the Obama administration.
The grassroots decision to sidestep Newsom was a clear departure from tradition — and a signal that progressives who backed Sanders don't intend to be sidelined. Party insiders say Newsom — who endorsed Hillary Clinton over Sanders in 2016, and Kamala Harris over Sanders in 2020 — wanted to lead the Democratic Party delegation of his state. But the California governor pulled out of the competition after groups like the California Nurses Association, still angered at what they saw as a backtrack on single-payer health care, and Sanders' own Our Revolution crowd made clear he wouldn't make the cut.
After the vote, Newsom tweeted Sunday that "CA Democrats have never been more energized, united and ready to elect our next President."
BERNIE BACKERS NOD FOR KHANNA AS MOVEMENT LEADER? The vote underscored Khanna's rise as a progressive wing leader to watch — and cements his role as the captain of the Bernie movement in California. The national co-chair of Sanders' campaign was a valued surrogate for the Vermont senator and helped deliver 46 of 52 districts for Sanders in the March 3 primary. He has galvanized progressive support with his active legislative record to curb the president's war powers and end U.S. involvement in the Saudi-lead war in Yemen, among other issues.
Khanna tells POLITICO that the support sends the message that "California is leading the way" on a score of issues that he's fought for, and which matter to progressive voters — including free public college, single payer, clean tech, rethinking military and police budgets, and criminal justice reform. "This is not a ceremonial role,'' he said. "We'll be pushing for a progressive agenda … and for a start to a new progressive era."
NOT YOUR FATHER'S POLITICAL CONVENTION: Khanna acknowledges in the age of Covid-19, it is unlikely that any of the Democratic National Convention will be a traditional party get-together. And he's glad. "It's irresponsible what the GOP is doing,'' holding a convection indoors with packed delegates and exposing them to coronavirus transmission, he said. "Prudence and caution is what we need now." So he, Lee and Solis may miss that big TV moment of delivering California's delegates to Biden amid a big crowd and in front of the TV cameras. But "I'm perfectly happy,'' he said, "to do it on Zoom."