Feinstein, Pelosi curiously quiet on Kamala coronation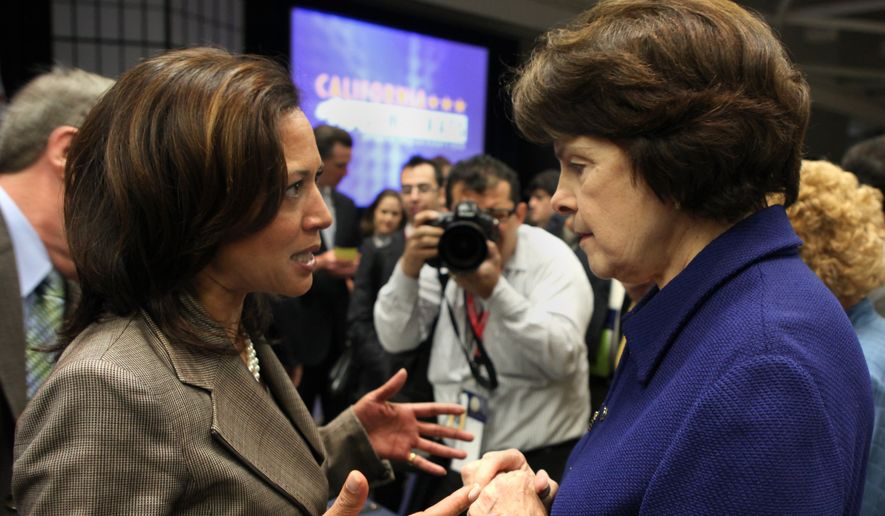 San Francisco — While Most Democrats elected in California paid tribute to Sen. Kamala Harris after Joe Biden put her on the 2020 presidential ticket, two senior party women in the Golden State opted out of the Twitter praise-a-thon.
"Principled. Brilliant. Compassionate. Empathetic. Honest," bleated Gov. Gavin Newsom.
"Incredibly smart, tenacious and compassionate. She believes in facts and science," oozed Rep. Ted Lieu.
"Here we are today with this historic moment," beamed Rep. Maxine Waters on Tuesday, the day of the announcement.
Yet neither House Speaker Nancy Pelosi nor Sen. Diane Feinstein could trouble themselves or their interns to cobble together a few characters of praise. (Expect that to change when they are called on it.)
It's not like their Twitter accounts were inactive. Pelosi's account thundered Tuesday with charges that Republicans were starving children. And Feinstein's made the case to extend the U.S. Census counting process.
Why the glaring omission? At least in the latter's case, there's no love lost between DiFi and the Kamal. The senior senator from the Golden State famously snubbed the junior by endorsing Joe Biden for president rather than her California counterpart.
"She's brand-new here," Feinstein sniffed to the Los Angeles Times when asked in 2019 if she would support a Harris bid for the White House. "It takes a little bit of time to get to know somebody."
Ouch.