Why Joe Biden is like Captain Kirk's friend gone bad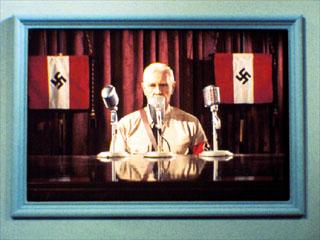 Classics historian and political commentator Victor Hanson, a Stanford University professor with the Hoover Institute, has stacks of advanced degrees, ancient language manuscripts and best-selling books in his Palo Alto office.
But the man shows true brilliance this week when drawing from 1960s pop culture to find the perfect parallel for telepromptin' Joe — an old friend of Captain Kirk gone rogue.
"Similar is the famous scene in an episode of the old Star Trek series, depicting a near comatose on-air John Gill used as a televised prop by his puppeteers, in a utopian federation project gone haywire," Hanson writes this week in American Greatness.
"Yet even then Biden cannot act out the part of the Star Trek federation's addled Gill without someone either giving him the pre-written answer on the teleprompter or writing it out for him in real-time."
Here's the Star Trek clip from the original series episode Patterns of Force with the eerie deja vu.
Let's hope that Biden, like the erstwhile Führer on the planet Ekos, sees the errors of his ways and stops the Democratic plans for Endless Wars Inc.
Maximum respect to the sage from the Central Valley, who, like the Roman general Cincinnatus, would rather retire to the family farm than fight the nation's battles, but does the latter reluctantly out of a sense of civic duty.