SNAP: After mask ask, woman leaps on KFC counter, demands food, threatens to stab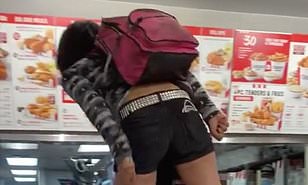 Counter Terrorism: Customer goes over the edge over mask ask
Staff Report
After being asked to wear a mask, a woman in a Kentucky Fried Chicken restaurant jumps on the counter, knocks over a sign, threatens to stab employees and demands food.
"Gimme something to f****** eat. I'm hungry," she yells in a video posted from California.
The unidentified customer, who was denied service for her Covid non-compliance, then starts a mostly incoherent tirade at a shocked male employee, and taunts him to call the police.
The aggressive woman then threatens to stab a female worker unless she is given something to eat immediately, preferably mashed potatoes and chicken, recorded in a second video.
'I can't. I'll get fired," a KFC employee tells her.
Offered a mask by another customer, the woman fumes that she "doesn't give a s***' anymore," insults the kitchen and storms out.
The woman who posted the video on Facebook and Tiktok, identified as Leah Mae Chastain, said it was taken from the Fresno area. There is no report of an arrest.
For more unusual California news, check out our home page at PressCalifornia.com