Twitter sends us to Twitter jail. Our response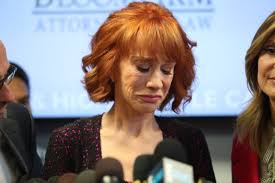 Jack Dorsey and friends locked Press California out of its account. After 12 hours of limbo, they told us why.
We had posted a link to Steve Bannon's War Room because of reader demand and interest. The show is harder to find than Bigfoot on the Internet these days, after the former White House advisor's rhetorical heads on spike comment.
Ironically, we posted to an episode (without the Bannon quip) in Mandarin, because more Chinese have access to and are watching the U.S. elections soap opera than Americans.
The D-List Comedian Defense
Twitter they would spring us if we removed the link. Here was our response:
Dear Twitter,
I was locked out for posting a link to an episode of Steve Bannon's War Room in Chinese. It wasn't the one with his head on spike comment. Not sure why Twitter would allow Kathy Griffin to hold up a severed and bloody Trump effigy head, and lock me out instead. Could you please share the relevant guidelines on this matter that were used to determine our cases, so I can best make Twitter decisions in the future? The hundreds of thousands of readers on PressCalifornia.com, the largest independent news aggregator in California, where this issue is being covered, and I would like to know. Thank for you considering this appeal.
Yours,
Richard Stenger
Founder and Editor
PressCalifornia.com
We Don't Need the Socials
Press California is not holding its breathing waiting for a decision. Honestly, Twitter provides little ROI in terms of time. They've shadow banned and muted us, and constantly removed our followers. (It's as if they know how to run a modern U.S. election).
You can find us on Parler and Gab if you want to communicate with us on the socials. But honestly, we prefer that people engage with us here on the site so we are not beholden any outside company for traffic.
Please share Press California! And please hit the tip jar. Every bit helps in the escalating information warfare. Thanks.