Hondurans prepare to go home: 'The caravan is over'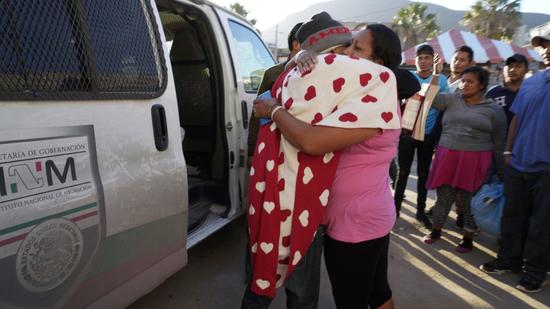 TIJUANA — After setting out from their Honduran homes eight weeks ago and arriving in Tijuana in mid-November with the dream of reaching the U.S., five members of the Central American migrant caravan decided Thursday to turn around and go home.
They are not alone.
In recent days, vans from Mexico's National Migration Institute have been taking migrants from the El Barretal shelter to immigration offices where they can begin the voluntary repatriation process. Earlier this week, a group of migrants bid their fellow Hondurans farewell with hugs and folk songs. A top Mexican official told one news organization that about 1,000 members of the caravan have already left for Honduras.
The dream of the caravan was to move in large groups through dangerous areas to protect each other from criminals and smugglers, and eventually arrive at the U.S.-Mexico border where they could seek asylum and gain steady employment. Many traveled 2,800 miles mostly on foot through brutal conditions and were under the impression that it would be just a matter of days before they could cross the U.S. border, like crossing into Guatemala and Mexico.
Now there is resignation and disappointment.
"There is no future in Mexico," said David Lemus, 17, of Honduras as he boarded a van that would take him to Mexican immigration offices.
Thursday's departure had a more reflective tone as those who stayed in Tijuana debated what to do next. Nery and Dania Melgar, siblings who became close friends with Lemus during their journey to the border, were more blunt with their assessment of the situation.
"The caravan is over," said Nery Melgar, 22. "Everyone is on their own now."
Dania Melgar, 26, might join Lemus if she doesn't get a Mexican work permit soon. She applied two weeks ago and is running out of patience.
"If I don't get it tomorrow I'm going to leave," she said. "What am I going to do here without a work permit? We get food here but there is nothing to do."
More than 6,000 caravan members arrived in Tijuana last month. On Thursday, about 2,500 were registered at the El Barretal shelter and between 300 and 500 stayed behind outside the now-shuttered shelter at the Benito Juárez sports complex.
Where are the remaining 3,000? That depends on who you ask.
Rodolfo Hernandez, president of the Baja California State Migrant Council, told local media that, "nobody knows where they are."
David Leon, the National Civil Protection Coordinator in Mexico told the Mexico City newspaper EFE that 1,000 have returned to their country and another 1,000 have attempted to cross into the United States. U.S. Customs and Border Protection disputed those figures Thursday but did not provide numbers of their own.
A representative from Mexico's National Migration Institute told the Union-Tribune they are in a transitional period with the new government and the only person authorized to share information is the head of the agency. The representative hoped to have information available late Thursday or Friday.
In El Barretal, most of the migrants are applying for work permits in Mexico. They either want to stay in the country long term, or to save money while they wait for their number to be called as part of a long wait list of asylum seekers.
Meanwhile, a couple of entrepreneurial migrants have set up small businesses inside the shelter.
"Once I get my work permit, I am gone," said Hector Lorenzo, 30, from Honduras.
Lorenzo makes about $300 pesos a day selling cigarettes. He's a natural salesman.
"Smokes, smokes," he yelled as people walked by Thursday. "These cure cancer, and if they don't they'll kill you faster."
Brenda Rodriguez, 40, of Guatemala sells empanadas for 10 pesos each. She had her son send her 2,000 pesos, which she used to buy pans, hot plates, and materials. On Thursday, she sold 50 empanadas in a little over an hour.
"It feels good to work," she said. "It relaxes us."
Rodriguez works with a Honduran women she met along her journey to Tijuana. The two became travel companions and close friends. She said she was sad to see that the caravan is no longer together.
Another entrepreneur is Daniel Martinez, 19, has been cutting people's hair since Honduras. He charges 40 pesos per haircut and doesn't want to say how many he's given because he doesn't want people to know how much money he has.
On Thursday, four young men stood in line waiting for a haircut as Martinez finished giving a teenager his most popular cut, "La Bomba."
La Bomba, or The Bomb, is a close shave on the sides and back with long top. It kind of looks like a bomb went off.
Martinez plans to stay in Mexico and cut hair. Maybe open his own barber shop.
As some migrants left El Barretal Thursday, others arrived.
Yair Enrique, 33, was one of the holdouts who decided to sleep outside of the now-closed Benito Juárez shelter. He tried to doze under a nylon sheet Thursday night but the rain kept him awake. His blankets and bedding were soaked and ruined, he said.
Enrique was a tailor in Honduras who specialized in making fine clothing like suit jackets and dresses. He had to close his shop because local gangs demanded "protection money," he said.
He has family in Houston and would like to work as a tailor in the United States. Enrique is number 1,634 on the asylum wait list. On Thursday morning the list was at 1,226.
More in the
San Diego Union Tribune