The working witches of L.A. know how to work it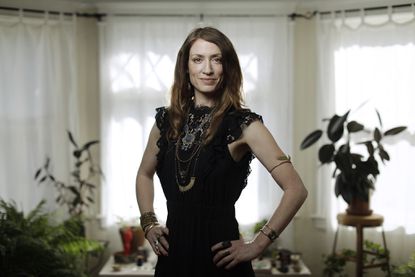 LOS ANGELES, Calif. — The Oracle of Los Angeles was feeling frazzled. It was already 2 p.m. and she hadn't had time to prepare lunch, much less wipe the ash from her altar. A tarot card client had just left her yellow Craftsman house in West Adams, evidenced by the smell of incense still lingering in the air. Within an hour, she was scheduled to meet with another client who was struggling to complete a PhD thesis.
In the meantime, she still had to prepare for her weekly podcast, create a purifying ceremony for a new business-and get her nails done for a reality TV appearance. Any downtime would be consumed with writing. The second draft of her memoir was due to her publisher in a week.
The Oracle, who also goes by Amanda Yates Garcia, is a former arts educator with a master of fine arts in writing, film and critical theory from California Institute of the Arts. For the past eight years she has made her living as a professional witch, performing "energetic healings," "intuitive empowerment sessions" and the occasional exorcism, while also teaching workshops on the art of magic online and at her home, independent stores, and sites like the J. Paul Getty Museum.
The Oracle understands the value of marketing, so she also devotes several hours each week to outreach: writing newsletters, updating her website and sharing tips on social media on topics such as how to break a curse using the "disruptive energy of a lunar eclipse."
"If you think being a witch is just sitting around doing spells all the time, you think wrong," she says. "Half my business is being on Instagram."
What do you think of when you hear the word "witch"? Pointy black hats? The Salem witch trials? The free-spirited members of the pagan religion Wicca?
Today's working witches, whose prominence is growing thanks to social media, primarily see themselves as healers. They help clients who are struggling to cope with life's hurdles — heartache, aging, misogyny, work stress — and who find that more culturally accepted remedies, such as therapy and meditation, aren't enough.
They want to help you be your best possible self, or as the Oracle puts it, "My contribution is to … cultivate beauty and love in my clients and help them thrive."
There's no official list of job duties for witches, no state licensing board that notes educational or training requirements (which means clients proceed at their own risk). Services run the gamut, from herbal workshops to love spells to communing with spirit guides; some witches charge up to $200 an hour for their time.
Behind the story: She was researching an article on witches — and found a path to self-empowerment »
Sara Benincasa, a comedian and writer who started seeing the Oracle last August, says the sessions feel like "part therapy, part religious ritual."
"I would say she's doing spiritual coaching," Benincasa says. "You can go to see her the way you might see a rabbi or pastor."
(Yates Garcia is quick to note that "people should not use magic as a way of avoiding their problems," adding: "Sometimes clinical help with a therapist, social worker, medical doctor, or financial adviser is really what they need.")
If you think all this witch-talk is fringe thinking, it isn't.
A 2017 survey from the Pew Research Center that examined New Age beliefs in America found that 40% of respondents believe in psychics and another 40% believe that inanimate objects like mountains and trees are imbued with spiritual energy.
It also found that 33% of Americans believe in reincarnation, 29% believe in astrology, and 60% say they hold at least one of these New Age beliefs.
Anecdotal evidence seems to indicate the number of people who call themselves witches is growing.
"Interest in witchcraft waxes and wanes, but it is waxing, again, particularly among young women," says Helen Berger, a professor at Brandeis University who has been studying witches and pagans for 30 years.
At least half a dozen books on witchcraft have been released in the past six months alone. Museums and universities like LACMA, UCLA, UC Berkeley and Smith are inviting witches to lecture and lead workshops on their campuses.
And there are more places than ever to buy crystals, candles, incense and other tools of the witch trade — both online and in stores. Here in Southern California, the magical supply shop House of Intuition opened in Echo Park in 2010. In the last few years it has expanded into a full-fledged chain with storefronts in Pasadena, Long Beach, Santa Monica, Highland Park and West Hollywood.
Instagram has also helped spread the word. Search the hashtag #witchesofinstagram and you'll find 2.6 million posts including spiritual affirmations, Gothic selfies, and a substantial sprinkling of cats.
More in the Los Angeles Times