DHILLON: Taking Trump off the ballot is unconstitutional, twice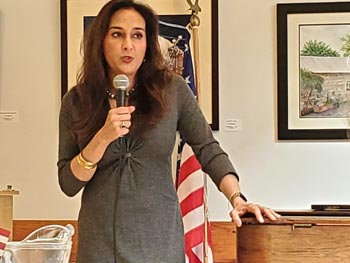 From Staff Reports
EUREKA – One of California's foremost GOP legal activists is challenging a state law requiring presidential candidates to release five years of tax records before appearing on the 2020 ballot. A key hearing on an injunction to stop the measure takes place Thursday.
The legislation, authored by Sen. Mike McGuire (D–Healdsburg) and Sen. Scott Wiener (D-San Francisco), is "plainly is not constitutional under state and federal law," said Harmeet Dhillon, the former vice chairwoman of the California Republican Party and lead attorney with the Dhillon Law Group Inc.
President Donald Trump has vowed not to release his records, which he says are currently the subject of an audit. Should his name not be on the March primary ballot, the result would disenfranchise millions of California Republicans, who would have little incentive to turn out at the polls, Dhillon said.
Dhillon's firm and four other organizations have sued to challenge the legislation, which Governor Gavin Newsom signed in July. Governor Jerry Brown, who never released his tax returns while in office, vetoed a nearly identical bill in 2017, citing constitutional concerns.
U.S. District Judge Morrison England, Jr., appointed to the federal bench by former President George W. Bush, is set to hear an injunction request on Thursday in Sacramento.
A decision could be forthcoming soon. The deadline for candidates in California to submit their tax returns to appear on the March 3 primary is in November.
President Trump clearly meets the specific requirements to be on the ballot, Dhillon said. According to the U.S. Constitution, a presidential candidate must be a natural born citizen of the United States, a resident for 14 years, and 35 years of age or older.
In California, to be eligible to run, a person needs only be a "generally recognized" as a presidential candidate, and collect a certain number of signatures, which Trump will surely get, she said.
Dhillon made her remarks Saturday at a fundraiser for the Humboldt County Republican Party, which has endured repeated and costly acts of vandalism to its modest Eureka office.
"Every time Antifa protesters gather in Portland, a day or after, maybe when they ride back to San Francisco, our storefront gets hit. It's like clockwork," said John Schutt, a criminal justice college professor who chairs the county GOP.
The event brought about 100 party faithful to the Angelina Woodfired Kitchen in Fortuna, a popular restaurant noted for its pizza and Eastern-inspired cuisine. Owner Harry Boyajian cuts his own steaks and raises the lamb he cooks on his nearby Lost Coast Ranch.
Dhillon, whose San Francisco office has numerous high profile clients, like fired Google engineer James Damore and conservative journalist Andy Ngo, is no stranger to the North Coast. Besides being an enthused tourist to the Victorian Village of Ferndale, about which she shared a humorous story, she spends much of her free time at her family's home in Sea Ranch, an unincorporated Sonoma-Mendocino community.