Santa Monica places homeless on a pedestal. Resident wants it toppled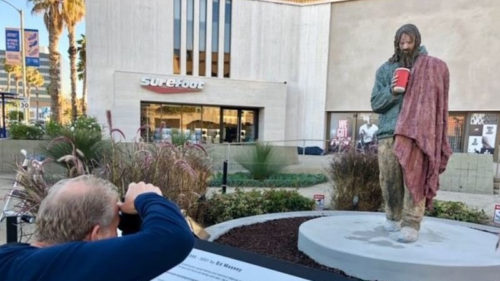 NOTE: John Berg, a longtime Santa Monica resident, posted a petition to remove a statue of a homeless person on Change.org. However, after gathering 42 signatures, the leftist digital platform based in San Francisco removed it. Here is the message he posted on the site, which he shared with us: 
I was traveling in Colorado last November when a friend emailed me a story about a 7 foot high statue to the homeless, erected in the plaza at the intersection of Wilshire and 26th (the former Home Savings location, with the recently removed, beautiful, historic Millard Sheets mural). I emailed her back, something to the effect that this was a simply a fake news hoax, complete with doctored photo. I was convinced that even in notoriously uber-progressive Santa Monica, that this would not be permitted.
Well guess what-it was not a hoax, and there was no doctored photo, and the story went national, possibly international, making a laughing stock of Santa Monica and further injuring its image around the world—as if it needs further injury.
It seems that the owner of the property, Wilshire-26 LLC, in conjunction with a lot of private donors, decided that this piece of "art" by social justice advocate and artist Ed Massey would "invite passerby to contemplate their views and elevate their discourse on the issue-one that has now come to affect us all where we work and live" (the artist's own words).
Reports at the time stated that the statue would be up for "six weeks". Well, six months later, it remains, having long since made its "point," and continuing to stick its middle finger at all reasonable hard-working citizens of Santa Monica. I contacted the Santa Monica city-council rubber-stamping Santa Monica Daily Press, emailing reporter Madeleine Pauker, requesting that she investigate this situation for her readers; not surprisingly, she never even responded to me.
At this point, its time has clearly come and gone….that is, if its time had ever come. Santa Monica has been known as "The Home of the Homeless" for decades, long before it became "woke" policy to decry the high rents and blame them for the homeless situation.
The city has pumped millions and millions into helping this segment, actually attracting them with its generosity and bottomless compassion—-drawing vagrants, criminal vagrants, mentally ill and the substance-addicted from around the nation, to a city so, so blessed with natural and human resources.
Now, incredibly, and sadly, tourist guidebooks tell their users to avoid the "sketchy, dangerous" city by the sea. It's outrageous and nauseating.
Millions and millions spent, much of that now built firmly into the city's recently announced, frightening, ginormous Coronavirus-era $226 million deficit. Why, it was only last August that City Council approved some $207,000 per six month period, for contracts for "ambassadors" to keep an eye on the undesirables roaming Reed park at 7th and Wilshire, by the newly opened Santa Monica Proper Hotel.
Wouldn't want visitors to see anything nasty going on there, right? So spend a half mil a year to rove the park! Pay tax $$ to "control" anti-social behaviors that would not be tolerated in the first place, in any civilized, reasonable town!
Investigations should be undertaken to see city funds has been used to erect, maintain or publicize this abomination. Ted Winterer, city council member, stated somewhere along the line that the statue being on private property (the plaza), the city had limited control if any, over the statue. Like, there's nothing called "code violations", a hedge too high, leaf blowers, a flagpole erected somewhere illegally?
Was there not an infamous Beverly Hills mansion on Sunset Blvd. in the late 1970's, with anatomically correct painted statues within the property line, visible and likely offensive to anyone passing by? Since when does a violation even within a property line neutralize code enforcement? Is this "plaza" truly owned by Wilshire-26 LLC? Or is it technically city property?
More than likely, this abomination is in keeping with the "woke" progressive politics of those governing Santa Monica. People like Kevin McKeown, Ted Winterer, and Gleam Davis approve of its message, and like it just the way it is—they'd like it to become a permanent part of this city, which is slipping into an unimaginable abyss, the mayhem documented so beautifully by Santa Monica Problems on Instagram.
Demand the immediate removal of the statue and an investigation into any city financing of it.
Jon Berg, Mid-City Santa Monica 24 year resident.