WATCH: Councilwoman Karen snaps, demands arrest of the unmasked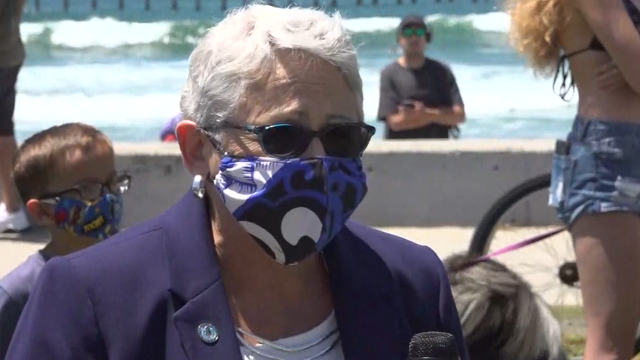 Ocean Beach, Calif. – A San Diego city councilmember heatedly criticized those not following social distancing mandates or wearing masks in Ocean Beach, urging authorities to arrest non-compliant people.
Covid is "the worst virus in the history of medicine," fumed Councilmember Jennifer Campbell in a press conference next to a popular beach park.
"The county sheriff should be here arresting people who are not wearing masks, who aren't distancing. Behave or you're going to be in big trouble."
Campbell made her remarks on Tuesday, the day before the park hosts a weekly market that often draws unregulated sidewalk vendors.
The city of San Diego has no laws regulating the curb merchants, many of whom sell food, so they are not subject to public health guidelines affecting nearby farmers markets.
Besides the vendors, the park often attracts uninhibited percussionists, who gather in informal drum circles.
Livid, Campbell led the campaign to eliminate gatherings in the park, but the park people soon removed barriers erected to stop them.
"They have got to behave in a responsible, adult, mature manner," thundered Campbell, who, incidentally, was much closer than six feet to many in the park.
She then blamed President Trump for the problems in her city district.
Some in the Ocean Beach park disagreed with the "Covid Karen" councilwoman.
"While you have all your bars open, it's not okay to have some hippies out here having a good time," one resident complained, in a KUSI San Diego report.
"If you want to have a riot, that's okay. If you want to get drunk at a bar, that's okay. If you want to do yoga in the park, or want to feed your child because you need to sell something here, that's a problem."
For more Crazyfornia news, check out our home page at PressCalifornia.com