California Democrat sends Ku Klux Klan pic to Candace Owens. Doesn't go well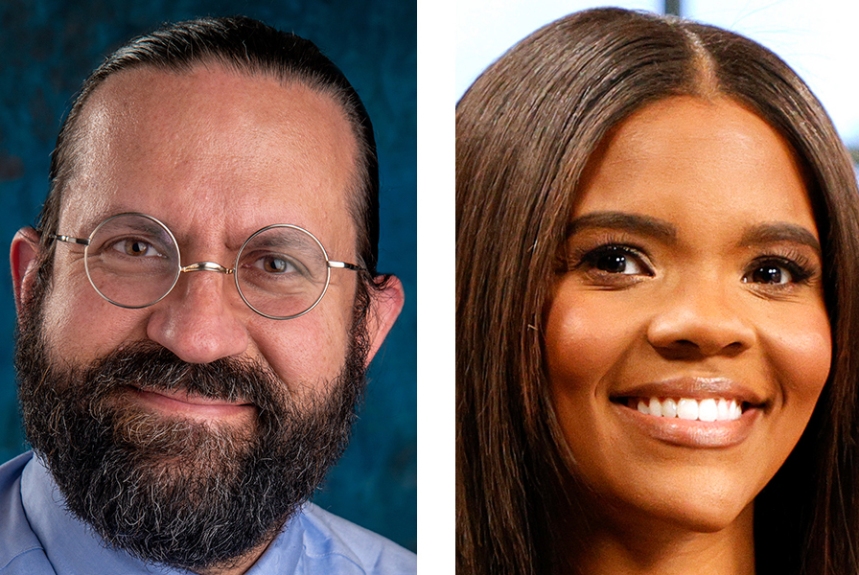 For more independent West Coast news, see our home page @ PressCalifornia.com.
Liberal Chapman Professor Blames His Whiteness
A Democratic candidate for a congressional seat in Southern California has decided to leave the race, after tweeting an image of a Ku Klux Klan hoodie to black conservative activist Candace Owens.
William O'Mara IV, a liberal white history professor at Chapman University, was preparing for a rematch in 2022 after losing to Rep. Ken Calvert, R-Corona in November. Days ago, he sent the KKK photo to Owens with the following message: "Yikes. You may've dropped this."
Owens, a book author and commentator with 2.6 million Twitter followers, wasn't amused.
She tweeted that she contacted the Riverside County Sheriff's Department for what she described as his "little klansmen act."
'This is RACIST and you are a PIG'
"How do we feel about Democrats sending photos of Ku Klux Klan hoods to black conservatives as an insult because I'm pretty sure — as my grandfather is still alive and breathing and suffered the REAL klansmen in his youth — that this is RACIST and you are a PIG for sending this," she tweeted at O'Mara.
Owens, noted for her politically incorrect views on subjects ranging from George Floyd to Adolph Hitler, had recently wondered online why whites were being blamed for violence against blacks and Asians when most violence against blacks and Asians is committed by blacks.
The comment set off O'Mara, a longtime progressive professor known for his double braided beard, who goes by the name Liam, who then sent his offensive tweet.
In an interview, Owens, who has urged African-Americans to quit the Democratic Party, said O'Mara has sent "vitriol" her way before.
"Liam has followed and harassed me for no other reason than my being a black Republican, for approximately two years," Owens told The Press-Enterprise in Riverside. "I had never responded to him previously, but the Klansmen hood was a step too far."
Owens added: "I am a forgiving person. However, Mr. O'Mara has qualified his apologies with excuses and lies. He has called me far-right and rather bizarrely, a racist black woman. That is unacceptable."
'I made a terrible mistake. It was white privilege'
O'Mara, who got 43 percent of the vote against Calvert in the lost election, posted a Facebook video with a long apology for his tweet, which he blamed on his whiteness.
"I made a terrible mistake," he wrote. "I am officially (resigning) from all my responsibilities within the Democratic Party, and am no longer running for Congress."
"What I did was a display of white privilege," said O'Mara. "I will never know what pain can be experienced by members of our community when faced with images of the Klan like the one I used. Its use, like all discriminatory rhetoric, has no place in our discourse or our society."
O'Mara, who said he sent the tweet late at night when he wasn't in a good frame of mind, deleted his Twitter account.
O'Mara's "disgusted" campaign staffers posted a web statement expressing their disapproval.
"We all have various histories with him, but we never imagined that he would commit such an act of hate," read the letter, which was signed by 16 people. "Liam, through his racist actions, has materially harmed the African American community."
Calvert took issue with O'Mara's tweet.
"When we disagree with each other, there are plenty of ways to express those thoughts without the use of hateful, racist imagery," Calvert wrote on his campaign Twitter account.